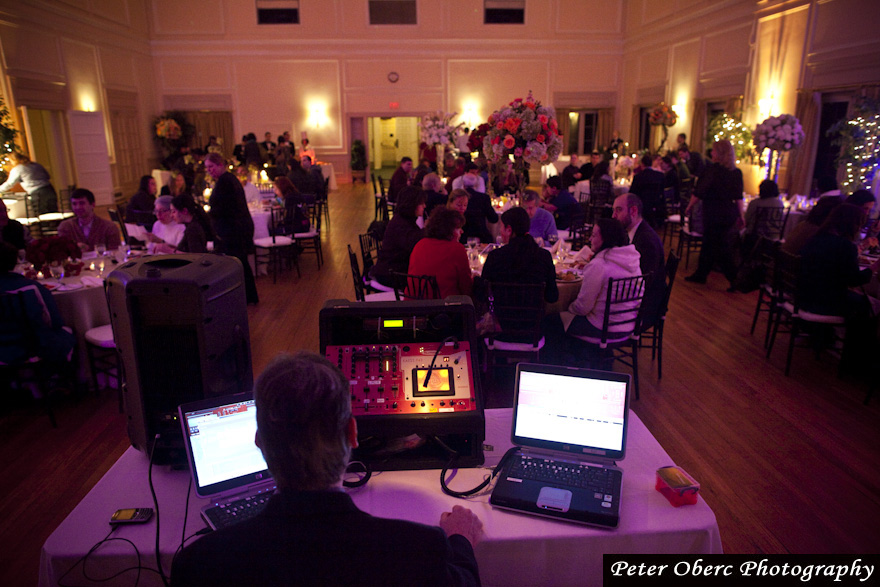 "How would I describe the music for my wedding? Elegant. Fun. Classic. Danceable. Rocking."
Stefani O.
"There are no non-danceable songs, only non-danceable people".
Carrie B.













Mobile Disc Jockeys normally fall into two categories:




Low-Key DJ/MC
Minimal microphone usage limited to announcements and introductions.
No dance demonstrations.
Usually one DJ with assistant.
Requests welcomed.
Tasteful intelligent lighting
Interactive DJ/MC (possibly with unlimited banter)
Props, costumes and giveaways
Lighted platforms
Smoke
Dancers (some tasteful, some not) and motivators
From 3 entertainers and up.
BOK does NOT book this kind of DJ Team and would be happy to refer you to one if needed.






Who books BOK?

Top reasons our clients choose us:

"Low-key" MC and accommodating style.
Expert knowledge of music including most styles, eras and cultures.
Huge selection of recordings and sheet music.
State of the art audio and lighting equipment.

Glowing recommendations from their venue, caterer, photographer, videographer or floral designer. Our vendor friends have seen us in action countless times!
Mix and match combinations of DJ and musicians to cover background, ceremonial and dance music.
Reasonable rates. We offer discounts for last minute bookings based on availability. All repeat customers receive a %10 discount! Just ask.




Candid DJ Videos
Come hang out on the BLOK for videos, images and testimonials.
See bottom for older videos replaced by the ones on the BLOK if you haven't seen enough.
Dell and HP laptops running Microsoft Windows 7 with Intel Core i5 chips
ESI sound cards
DEX Pro-DJ software from PCDJ
Numark DJ mixers
Viewsonic VGA projector
Shure wireless microphones
Musicians and DJs are impressed with the

Mackie-SRM450

bi-amped active speakers and the

Mackie-SRS1500

Active Subwoofer. They sound amazing, look great and don't take up much space.
We can play any MP3, OGG, Vorbis, WMA, FLAC, WAV, and unprotected M4A and ACC files at your event and invite you to bring your own iPods, CDs or email us your recordings. Our library of more than 25,000 MP3s is expanded monthly by Radio Programming and Management, Inc.

Older videos:
The following older videos have been replaced by the ones on the BLOK. If you haven't seen enough, come back here.
Most of the following candid videos were shot with a Zoom Q3 camcorder. We shot without a light in order to not interfere with the ambiance and the lighting effects. A few include camera induced audio distortion. The glow necklaces were provided by the clients.
With Lighting
Lighting: Chauvet Eclipse & Vue 3 lights at Fox Hill Inn
The bride, her girlfriends, Beyonce and Lady Gaga at Fox Hill Inn
Groom gone wild at Fox Hill Inn
Techno Glow Necklaces provided by the Bride at Fox Hill Inn
Pretty Woman - Uptown Girl at Fox Hill Inn
Lighting: Chauvet Eclipse and Vue 3 lighting up the cieling for Grandma at Tappan Hill
The bride cuts in with grandma at Tappan Hill
Hitachi Christmas party DJ with Vue 3 lighting at Westchester Marriott
Lighting or not? You decide:
Sweet 16 at Crabtree's Kittle House with lighting followed by a wedding without lighting at Weehawken Chart House. Which do you prefer?
Without Lighting
Classy Union Square rooftop wedding
Crabtree's Kittle House Tap Room and Dining Room

Crabtree's Kittle House Atrium - Valentines Day Wedding

Featuring one of our more colorful clients:
Betsey Johnson at the National Arts Club