Private lessons in piano, guitar, composition, theory, and digital recording are given in our Scarsdale studio. Many styles of music including classical, pop and jazz are included. Want to learn another instrument? We can refer you to a highly qualified teacher.
The Keys
to Success: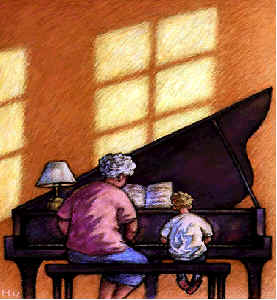 Variety: In order to make piano lessons fun and to develop a deep musical experience, we include composition, theory, computer music, improvisation, pop, jazz and guitar. Normally, we do so after the lesson plan has been covered or if the student has not had enough time to practice during the week. Please indicate your preferences on the registration form.
Repertoire: We help our students pick songs they will enjoy practicing. A wide range of music literature including classical, popular, blues and jazz is offered. Although we encourage completion of all pieces, it is acceptable to move on to a new piece before tiring of the old one. Repetition may enhance dexterity and musicality, but it does not help sight-reading. This explains why a student may suddenly jump from one piece to the next. We encourage a positive relationship between the students and the pieces they (and you) choose to live with every day.
Practice, practically, all the time!
We suggest setting aside at least 15 minutes per day, for practicing. It is short enough to schedule easily and can lead to a longer period once the fun begins... Sometimes, especially at first, adult guidance is crucial. You should help the student search the practice sheet for the current assignments. Other essentials are:
1. Quiet surroundings
2. A well maintained and tuned piano or k


eyboard (minimum 5 octaves, sustain pedal and velocity sensitivity)
3. Adequate lighting
4 A Pencil
How to buy and maintain a guitar: http://www.pauladams.org/Buyingaguitar.html

While students may begin lessons at any time, students inquiring or registering for September should return the registration form with fully refundable first installment as soon as possible. Lesson times will be confirmed in order of receipt of registration with first installment.
Full Refunds: Your payment is fully refundable if we cannot schedule the student.
No risk refund: A refund for all advance lessons is given if student discontinues lessons. Simply notify us 7 days before discontinuing. Unused make-up lessons are not refunded.
Make-up Lessons: A make-up lesson or double lesson can be arranged if we are notified by 10:00 AM the day of the lesson. Up to 5 make-up lessons per year will be offered and must be taken by the end of June. Arrangements for make-up lessons are the responsibility of the student or parent. We will notify you as soon as possible when we may have a professional engagement or illness to arrange a makeup. These do not contribute to the 5 makeup limit.
Weather: Normally, lessons will be given when schools are closed for weather issues. Feel free to come to your lesson at your discretion unless we call to cancel. Please call either way.